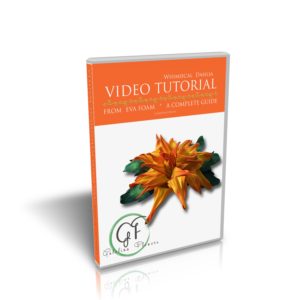 In  this video we lay the foundation of creating flowers from EVA FOAM.
We will make a whimsical dahlia. This EVA FOAM flower is very dramatic, but it is relatively easy to make . By making this flower, you will learn the main techniques of flower making with EVA FOAM.
This is an amazing new material for flower making! Feather light, waterproof, inexpensive, it can easily be hand coloured.
Examples of flowers  made using these  technique  you can see here http://galelina.com.au/?page_id=1447
The duration  of this lesson is 1 hour. The Tutorial will tell you in detail what materials and tools you need for making this EVA FOAM flower. A big plus of working with EVA FOAM that you don't need any special tools and expensive materials. I will tell you what type of EVA FOAM is better to use and were you can buy it.
WE will go through all the stages of the process of creating flowers from the EVA FOAM. This will include the preparation of EVA FOAM, making patterns, dying , assembling and finishing techniques. I will share my "secrets"of working with EVA FOAM.
The preview of this online class here https://youtu.be/9v9gxW9LnvM
This video tutorial will be useful for both beginners and advanced students in the flower making art. Knowing this particular technique you will be able to achieve outstanding results by varying the number, size and the colour of the petals.
One of the great advantage of this material, you can quickly and reasonably easily make a stunning accessory or head piece matching your outfit.
YOU WILL RECEIVE A LINK  WHERE YOU CAN DOWNLOAD THIS VIDEO TUTORIAL, PATTERN AND PDF FILE WITH DESCRIPTION OF THE CLASS.
This Tutorial can be viewed on both Windows and Apple operating system.
If you prefer to receive a USB drive of the video tutorial "EVA FOAM whimsical dahlia" instead of downloadable link – please let me know. The price for USB drive including Economy shipping (without insurance and a tracking number) – AUD 15
Who is this tutorial for:
– milliners, – accessory designers, – flower makers, – those who love learning new skills, but living in our modern world, want to see the beautiful results quickly.
As well as the VIDEO Tutorial you will receive the patterns in A4 (original size) and a transcript of the Video.
You can purchase the tutorial here Eva Foam Tutorial
If you buy my Video Tutorial how to make EVA FOAM flower and would like to make this flower as soon as possible, you can order the EVA FOAM kit and start your creation much quicker!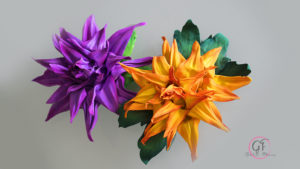 Important:
Purchasing this tutorial , you have agreed to use it only for your personal, non-commercial use. The purchase of this pattern does not give you permission to copy this pattern.
©All rights reserved, apply to the design and illustrations of this pattern
Created by Galina Kofod – Galelina flowers, Australia
Thanks for visiting!
Galina Kofod
Save
Save
Save