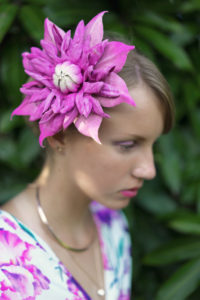 Leather flowers have always been popular. This flower is based on a clematis Josephine. It is very dramatic, but it is relatively easy to make. Together with us , you will make this beautiful leather clematis.
By making this flower, you will learn the main techniques of flower making with leather. We will tell you which type of leather is better for making flowers and what you need to do to so a leather flower holds its shape. In this Video Tutorial we will show you how to work with flower making tools and how to paint a leather flower to give it a more realistic and natural look.
The preview of this online class is here https://youtu.be/canieG3bZ90
The duration of this video is 43 minutes.
This video tutorial will be useful for both beginners and advanced students in the flower making art. Learning this particular technique you will be able to achieve outstanding results by varying the number, size and the colour of the petals. Your flower will be stunning!
YOU WILL RECEIVE A LINK, WHERE YOU CAN DOWNLOAD THIS VIDEO TUTORIAL, PATTERN AND PDF FILE WITH DESCRIPTION OF THE CLASS.
This Tutorial can be viewed on both Windows and Apple operating systems.
You can purchase this Tutorial in  my shop.
To create this beautiful leather clematis  you need to use  a 2.0 cm round ball from the set set of flower making tools   and any of  Japanese irons
Important:
Purchasing this tutorial , you have agreed to use it only for your personal, non-commercial use. The purchase of this pattern does not give you permission to copy this pattern.
©All rights reserved, apply to the design and illustrations of this pattern
Created by Galina Kofod – Galelina flowers, Australia
Thanks for visiting!
Galina Kofod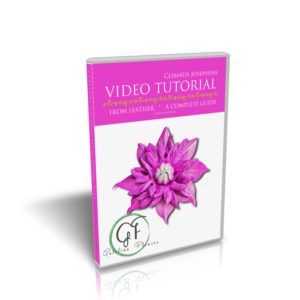 Save
Save
Save
Save