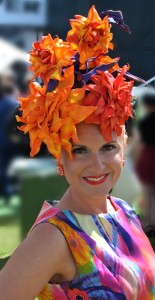 EVA foam flowermaking workshop on the 9th August in preparation for the Spring Carnival .
This is to introduce a new material, EVA foam, and new technique for Millinery flower making.
During the workshop you will get familiar with EVA Foam and explore its advantages for flower making in Millinery. You will learn the techniques of making patterns, painting , shaping and assembling your creation.
I was going to run classes at Hats off Brisbane teaching this technique , but it clashed with McGregor Winter school University of South QLD and I chose to teach at McGregor.I had two milliners in my class and they were really impressed by EVA foam possibilities.
Tools Required
Hot glue gun with glue sticks
scissors to cut EVA foam
awl
oil pastel crayons
Iron
The number of students will be strictly limited to make sure that it is a great learning experience.
The cost of the class is $150 including materials. The location : Gold Coast, Oxenford, QLD. From 10 am to 5 pm.
To make a booking please contact me directly 0448172972, gkofod@galelina.com.au