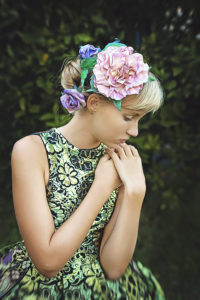 This is to introduce a new material, EVA foam, and new technique for Millinery flower making. This is an amazing new material for flower making! Feather light, can easily be hand coloured. Create beautiful blooms!
During the workshop you will get familiar with a new material EVA Foam and explore its advantages for flower making in Millinery. You will learn the techniques of making patterns, painting , shaping and assembling your creation. In this class you will complete a minimum of two different styles of flowers.
This class likely will be my last EVA FOAM flower making class in this year. It could be interesting for my constant students, because we will make new flowers. I would like to teach how to make roses at this class. Also, I will show some new elements of technique working with EVA FOAM.
Tools Required for this class:
Hot glue gun with glue sticks or glue 450
Scissors to cut EVA foam
Floral wire
Flowers stamens
Awl
Oil pastel crayons or soft pastels

Iron
The duration of the class is 6 hours, cost  is $150, it includes lunch and materials. TO secure your place a deposit is required. For further details contact me gkofod@galelina.com.au