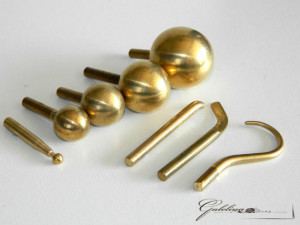 If you prefer to make mostly big flowers from silk, fabric or leather and don't want to invest a lot of money this Set is for you!
This basic Set includes:
5 Radius ball tool (diameter 5,16,20,25,30 mm) to shape petals.
1 Japanese iron ( spoon) for making chrysanthemums and giving extra shape to petals, leaves and calyxes .
1 Rat tail (hook) to make decorative dimples.
Single knife To make deep veins on leaves
All these irons, unlike some other sets, are fully made from brass. Brass is the most suitable metal for making flowers. It heats quickly and keeps an even temperature. Unlike steel tools it never sticks to your fabric and leaves dark marks. You don't have to clean it after work as steel tools. Ideal for working with soldering iron (not included).
The diameter of irons heads is suitable for working with most common electric soldering iron.
For making silk and fabric flowers we will recommend soldering iron 30W or 40 W. For working with leather you will need soldering iron 40 W or 60 W.
These brass tools are custom ordered and handmade by the expert based on the design and precise measurements of Japanese steel flower making tools . All my flowers are made with the same flower making tools.
The standard shipping time is 3-4 weeks. I will contact you if there is any variation to this.